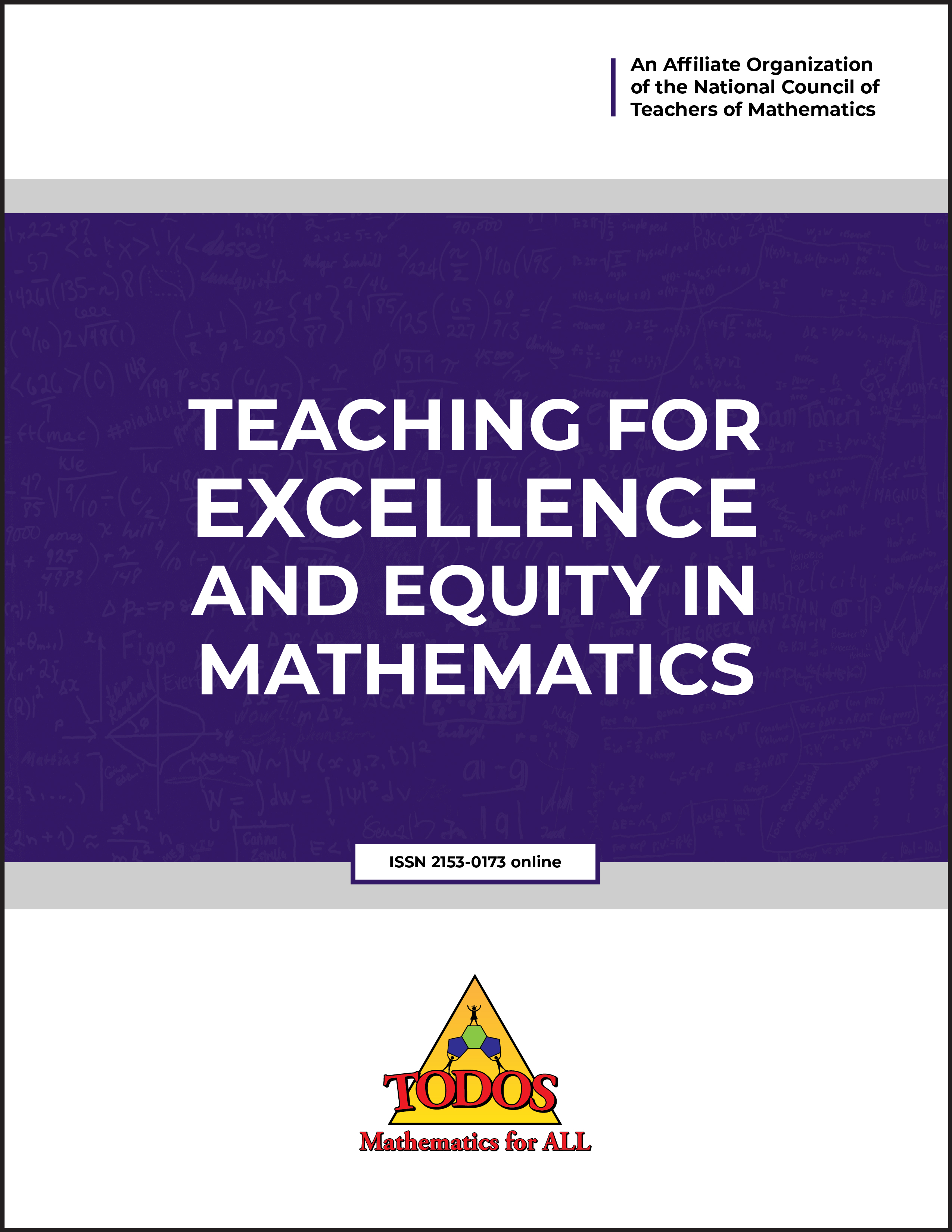 Current Issue
Vol. 14 No. 2 (2023): Teaching for Excellence and Equity in Mathematics (TEEM): Special Issue on Antiracism in Mathematics Education, Part 2
FULL ISSUE CONTENTS
From the Editors (p. 6)
Modeling Vulnerability: Confronting White Supremacy in Our Mathematical Policies, Practices, and Ourselves. Heather Yuhaniak, Christina Putman, Lindsey DaSilva, Jennifer Loznak, Catherine Malchodi, 
and Katrina Rucker (p. 9). 
TODOS Mission and Goals (p. 22).
The Mo(ve)ment to Prioritize Antiracist Mathematics: Planning for This and Every School Year (Position Statement) (p. 22).
Poetic Mathematical Knowledge, Cultural Connections and Challenging Epistemic Injustice. Ricardo Martinez, Cayley Carpenter, Katie Johnson, Shraddha Shirude, and Zhenji Zhou (p. 23).
What's in a Name? Absolute Value & Algebraic Identity. Benjamin Dickman (p. 31).

Call for Reviewers and Papers for TEEM (p. 38).
Antiracist Care in a Linguistically Diverse Mathematics Classroom: A Case Study. Melody Wilson, and Nafissah Alasry (p. 39).

Designing a Mathematics Teacher Education Course for Equity and Antiracism. Nicole Fletcher (p. 47).
Gatekeeping in Mathematics for Social and Racial Justice: Reflections on a Conversation Among Colleagues. Michael Lolkus, Eric Cordero-Siy, and Frances K. Harper (p. 60).
TODOS 2022-2023 Leadership (p. 70).
TODOS Video Project (TVP) (p. 71).
Full Issue
View All Issues