Persistence of African American Females in Engineering: The Mathematics Identity Factor
Abstract
To continue as global science and technological leaders, the United States is motivated to create a diverse, engineering workforce. One way of diversifying the engineering workforce is to address the disparity of women engineers. Although concerted efforts to improve retention rates of women in engineering are ongoing, women have earned only 5.6% of all undergraduate engineering degrees, with only 1% attributed to African American women (NSF, 2015b). African American women are commonly included in racial or gender-focused studies on persistence; however, few studies assess the effect of multiple identities to persistence. This exploratory study examined the relationship of persistence, measured by intent to persist, to multiple identities (social, professional, and racial) of African American female engineering students. Forward regression analyses were conducted and results indicated that the participant's mathematical identities were more salient to them than their racial or gender identities. Also, the values these women placed on being an engineer and belonging to the group were principal aspects of their professional identity. Additionally, negative affect and stereotype threat were found significant predictors of intent to persist.
Keywords: women engineers, persistence, identity, African American engineers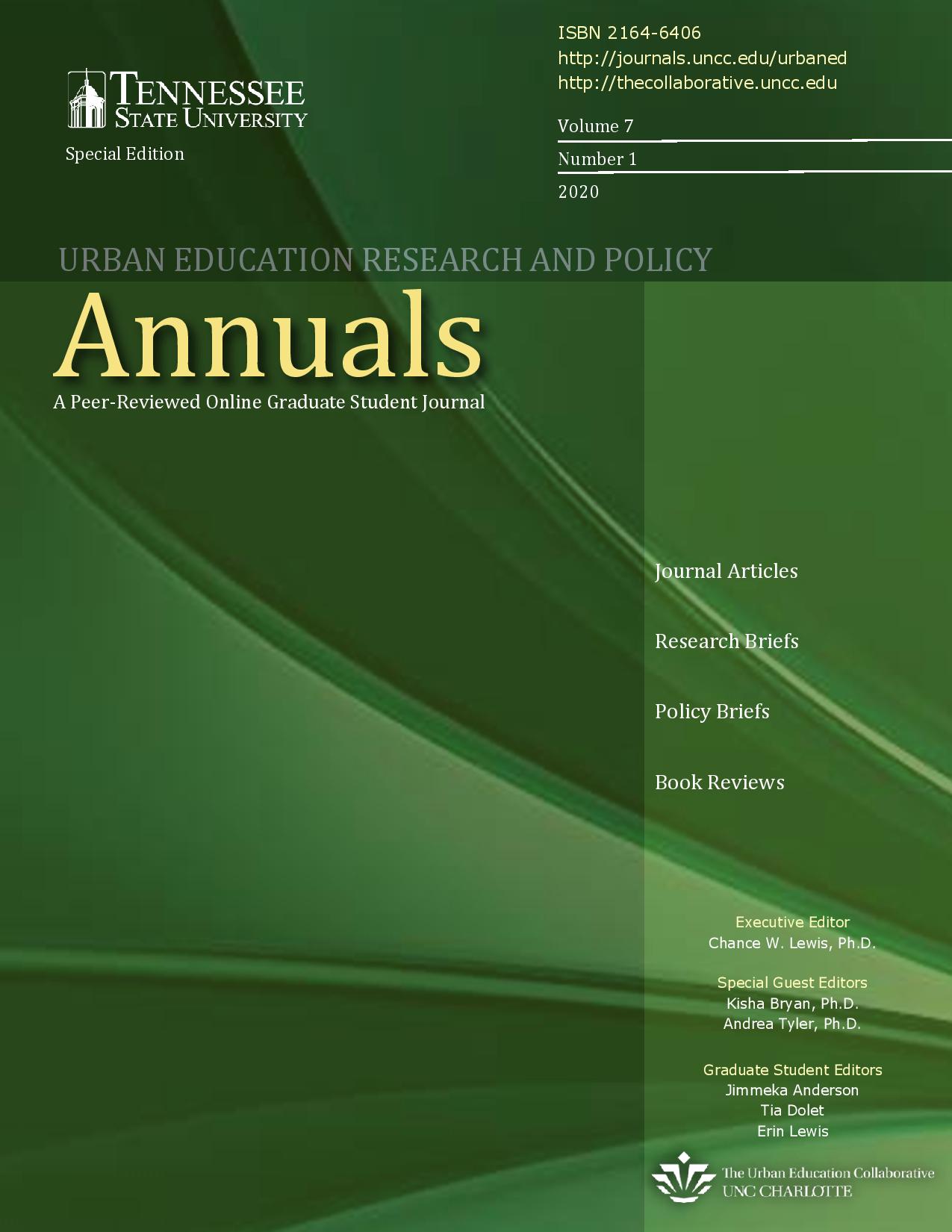 Downloads
License
Urban Education Research and Policy Annuals License Agreement

This Agreement (the "Agreement") is made by and between __________("Author(s)") and the Journal "Urban Education Research and Policy Annuals" (the "Journal").

Author Agreement
By submitting this research article entitled "_____________" ('article')to (Urban Education Research and Policy Annuals) published by Urban Education Research and Policy Annuals, the Author(s) certify that:

I. Warranties:

A.  Author  __________(name)  is legally authorized and possesses full power and authority on behalf of my co-authors [list names] to enter into this Agreement.
B. Author warrants, on behalf of all article authors, that:
a. the article is original, has not been formally published in any other peer-reviewed journal, is not under consideration for publication by any other journal and does not infringe any existing copyright or any other third party rights;
b. The named authors (above) are the sole author(s) of the article. Any co-author not signing this Agreement personally has granted full authority to [named author in I.A.] to enter into this agreement of his/her behalf and to grant  the following rights to Urban Education Research and Policy Annuals set forth below.
c. the article contains nothing that is unlawful, libellous, or which would, if published, constitute a breach of contract.
II.Copyright
Authors who publish with this journal agree to the following terms:
a. Author(s) shall retain copyright to the article but  grant the Journal right of first publication, and the irrevocable right to perpetually disseminate the article as part of the Journal subject to the Creative Commons Attribution License, that allows others to share the work with an acknowledgement of the work's authorship and initial publication in this journal.
b. Beginning one year after the date of formal publication of the article, Authors may enter into separate, additional contractual arrangements for the non-exclusive distribution of the journal's published version of the work and subject to the Creative Commons Attribution License (e.g., post it to an institutional repository or publish it in a book), subject to a proper acknowledgement of its initial publication in this journal: "This article was originally published in the Urban Education Research and Policy Annuals (Vol., Issue, Year)."
III. Indemnification.
Author shall indemnify, defend, and hold harmless the Journal from any and all claims, liabilities, damages, expenses (including attorneys' fees and expert costs', penalties, fees, if any arising from enforcement of this Agreement and/or related to claims of infringement of copyrights or proprietary rights allegedly contained in the Article  , or resulting from a claim of defamation, obscenity, or invasion of privacy based upon or arising out of the publication of the Article or any other breach of warranty as set forth in No. 1.