Black Culture Centers: A Review of Pertinent Literature
Abstract
Black culture centers provide important university support and services, such as advising, career development, mentoring, and leadership skill building. This article examines the existing literature related to this vital campus resource and identifies existing gaps for further exploration. A review of relevant literature indicates that though Black culture centers (BCCs) have existed at traditionally White institutions for over forty years, there have been relatively few empirical investigations into their roles, functions, and perceptions and even fewer studies examining culture centers generally. In light of declining financial resources and demands that directors demonstrate that BCCs are helping to create positive student outcomes, a common theme within the discourse surrounding BCCs involves validating their existence. Opponents often downplay the contributions of BCCs, arguing that they foster self-segregation and prevent African American students from integrating with the broader campus community. They claim that the roles of BCC are too narrow in that they are solely for African American students and merely serve a social mission. These widely held misconceptions pose a challenge to BCCs and ultimately present a threat to their existence. It is imperative that BCC researchers move beyond the anecdotal and develop more empirical evidence of the necessity of these race-specific culture centers.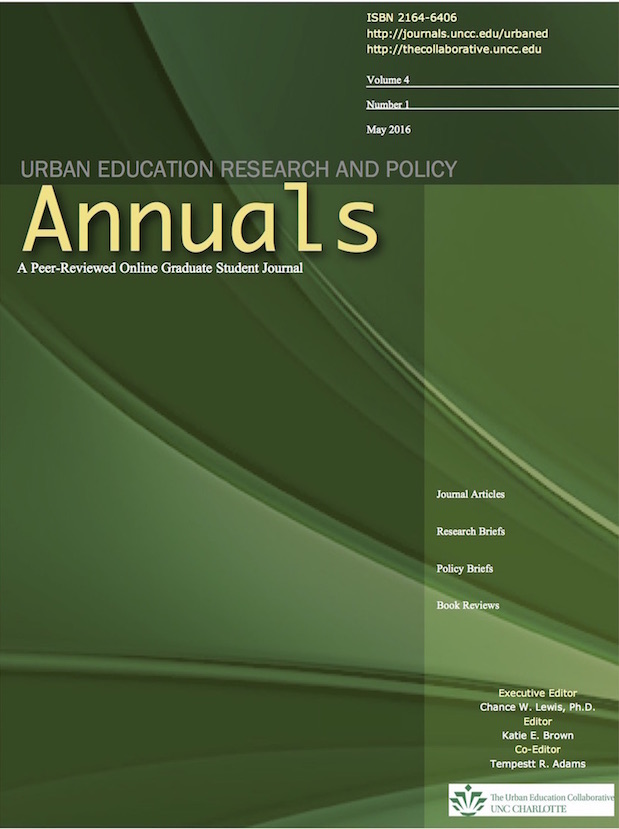 License
Urban Education Research and Policy Annuals License Agreement

This Agreement (the "Agreement") is made by and between __________("Author(s)") and the Journal "Urban Education Research and Policy Annuals" (the "Journal").

Author Agreement
By submitting this research article entitled "_____________" ('article')to (Urban Education Research and Policy Annuals) published by Urban Education Research and Policy Annuals, the Author(s) certify that:

I. Warranties:

A.  Author  __________(name)  is legally authorized and possesses full power and authority on behalf of my co-authors [list names] to enter into this Agreement.
B. Author warrants, on behalf of all article authors, that:
a. the article is original, has not been formally published in any other peer-reviewed journal, is not under consideration for publication by any other journal and does not infringe any existing copyright or any other third party rights;
b. The named authors (above) are the sole author(s) of the article. Any co-author not signing this Agreement personally has granted full authority to [named author in I.A.] to enter into this agreement of his/her behalf and to grant  the following rights to Urban Education Research and Policy Annuals set forth below.
c. the article contains nothing that is unlawful, libellous, or which would, if published, constitute a breach of contract.
II.Copyright
Authors who publish with this journal agree to the following terms:
a. Author(s) shall retain copyright to the article but  grant the Journal right of first publication, and the irrevocable right to perpetually disseminate the article as part of the Journal subject to the Creative Commons Attribution License, that allows others to share the work with an acknowledgement of the work's authorship and initial publication in this journal.
b. Beginning one year after the date of formal publication of the article, Authors may enter into separate, additional contractual arrangements for the non-exclusive distribution of the journal's published version of the work and subject to the Creative Commons Attribution License (e.g., post it to an institutional repository or publish it in a book), subject to a proper acknowledgement of its initial publication in this journal: "This article was originally published in the Urban Education Research and Policy Annuals (Vol., Issue, Year)."
III. Indemnification.
Author shall indemnify, defend, and hold harmless the Journal from any and all claims, liabilities, damages, expenses (including attorneys' fees and expert costs', penalties, fees, if any arising from enforcement of this Agreement and/or related to claims of infringement of copyrights or proprietary rights allegedly contained in the Article  , or resulting from a claim of defamation, obscenity, or invasion of privacy based upon or arising out of the publication of the Article or any other breach of warranty as set forth in No. 1.