About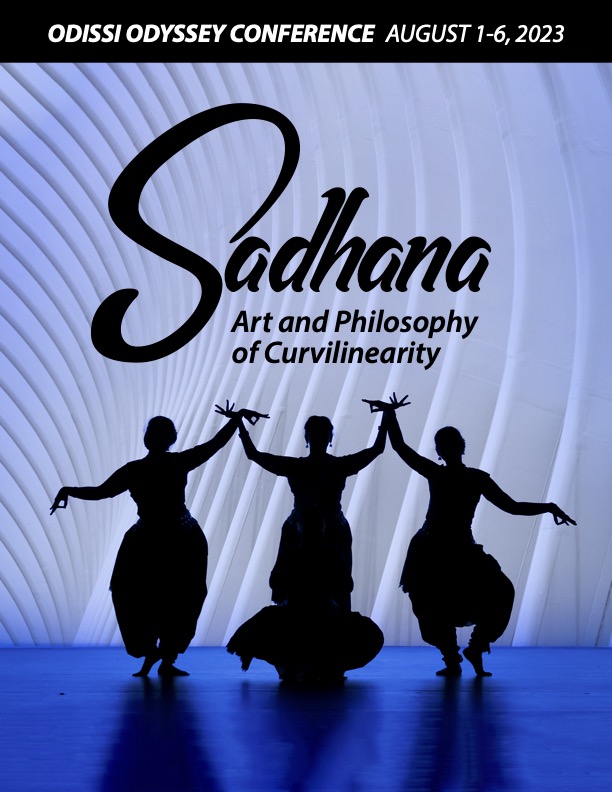 2023 Conference Theme - Sadhana: Art and Philosophy of Curvilinearity
Sadhana, daily dance practice, is a sacred space for dancers engaged in Odissi dance, an eastern Indian traditional art form. Every Odissi dancer claims her identity within the field of dance through daily practice of foundational steps as well as canonical repertoire. This space is also one of innovation and resistance, as noted by dance-scholar/ film-maker Nandini Sikand. While Odissi dancer Bijayini Satpathy finds this space for intentionality within corporeal exploration and expansion, educator-choreographer Rohini Dandavate finds this generative for socio-political relevance. Mangalacharan (invocation) to Moksha (transformative freedom) animates the life and being of every Odissi dancer. This conference is a modality of engaging with this traditional configuration and proposition while infusing it with social justice initiatives, such as anti-caste, anti-racist, anti-imperialist, anti-capitalist, and anti-classist resistance.
This conference will be an online conference held on video-conferencing because we want to be as inclusive as possible. It will have an in person component catering to the local Indian community as well as the regional and national Odissi dancer community.
Featured artists, guest-presenters, and guest-teachers:
Guru Aruna Mohanty
Guru Meera Das
Dr. Maya Kulkarni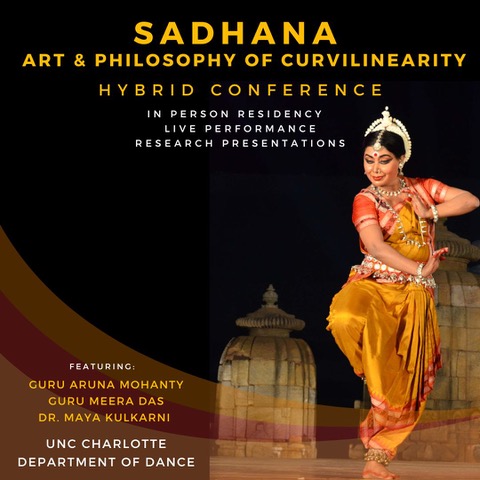 Conference Schedule
Online Seminar
11 AM to 1 PM EST Aug 1 -  4, 2023 On-Zoom
Pedagogy in Odissi - In Person
Aug 1 - 4, 2023
9 AM EST Yoga
9: 30 AM EST Stepping
10 AM EST - 1 PM EST Open Practice
2 - 4 PM EST  Deepening Abhinaya
6 - 8 PM EST Exploring Curvilinearity
Aug 5, 2023
8 AM EST Yoga
8: 30 AM EST Stepping
9 AM - 12 PM EST Percussive Tapestries
Aug 6, 2023
8 AM EST Yoga
8: 30 AM EST Stepping
9 AM - 12 PM EST Percussive Tapestries
12 - 2 PM EST Moving Towards: A Reflection on Abhinaya
Aug 7, 2023
8 AM EST Yoga
8: 30 AM EST Stepping
9 AM - 12 PM EST Deepening Abhinaya
2-4 PM EST Exploring Curvilinearity
6 PM EST Dance and Community Research Institute Evaluation
Performance - In Person
4 - 8 PM EST Aug 5, 2023 Concert
2 - 5 PM EST Aug 6, 2023 Peer-Review

Call for Submissions
We are seeking applications for research presentations (online only) and live performances (in person). Submission types include:
Paper Presentations for online component 

Abstracts should be 200 – 300 words in length. Your abstract may not exceed 300 words.

Your abstract should indicate a research question and clearly articulate the means and results of the conducted research.

Live Performance for in person component 

Descriptions of performances should be 200 – 300 words in length. Your description may not exceed 300 words.

Your description should indicate the inspiration behind the choreography and how it fits the theme of the conference. Please see the conference description on top.

Film proposals for online component

A summary of the film

Main discussion points of the film

Relevant media materials

Previous festival participation for the film submission
To submit a proposal, please request an account on our conference system by filling out this form: https://forms.gle/54gNFHS7AbTC7qd7A. Once you do so, we will create an account for you and send you the credentials needed to log in and submit your work.
Registration Information
All attendees need to follow the three-part process explained below. 
Three Step Application Process for Conference Attendance:
2. Receive Personalized Account on Conference Site
3. Complete the Online Application/ Registration Process
Application and attendance are completely free of cost. UNC Charlotte Open Access Policy is committed to democratic approaches to scholarship and to teaching and learning. 
The event will run from August 1 - 7 2023. It will have opportunities to learn, perform, and share research. The teaching intensive by the master artists will entail additional fees. Registration for the teaching intensive will be first come first serve basis due to limited capacity. Registration for enrolment into the intensive from August 1-7 2023 will open on July 15 2023. Levels will be Beginner, Intermediate, and Senior.